Personal consultations with Peter Varga and Tomas Demo
Are you looking for custom expert solutions tailored to your business needs? Opt for legal and tax business consultations.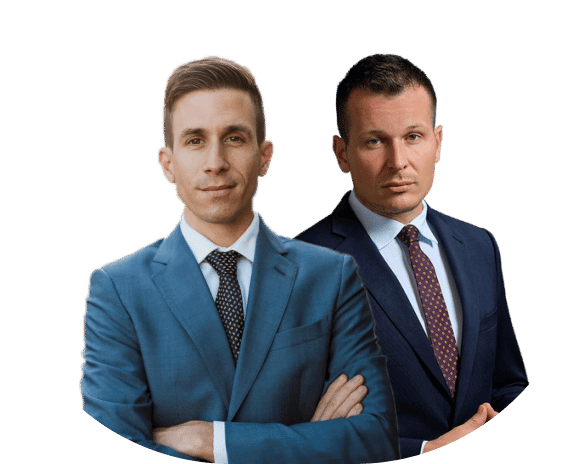 Personal consultations with Peter Varga and Tomas Demo
In the Slovak market, Peter Varga is a unique and singular consultant. In addition to being an attorney and tax/legal advisor effectively linking law, tax, and contributions in a coherent business advisory service, he is also an entrepreneur. 

At a very young age, he succeeded in establishing and effectively building strong brands well-known in the Slovak consulting world. These include the Highgate Law & Tax firm, and the tax and accounting group CARPATHIAN, which have merged to form Highgate Group. He is the founder of Crypto Tax & Law – the first and only crypto regulation and taxation portal in Slovakia. It is his subjective practical experience in business that significantly enhances the quality and thoroughness of the advisory services provided. 

Peter focuses primarily on tax and financial law. He provides comprehensive services in the field of tax and regulatorily efficient business setups for SMEs, including their representation before tax authorities, the National Bank of Slovakia, and courts. 

He has over 10 years of experience in these subjects. He advises not only "single member LLCs", but especially innovative and fast-growing Slovak companies that require a more dynamic and practical approach. He also advises investors and large corporations on simple and complex legal and tax issues. Peter writes articles, speaks at conferences, and as a member, participates in the Slovak Ministry of Finance's working group on improving the Slovak capital market. He organized and spoke at two of the largest consulting conferences (the Fund Formation Conference and the Legal and Tax Optimization Conference for Tech Companies) on various tax and legal topics.

Education & Experience:
After graduating from law school, Peter spent several years working at the leading international law firm, Dentons, as a trainee solicitor, and later as an attorney. He spent some of this time in the Warsaw office, working on international tax law and structuring. 

It was his time at one of the world's leading law firms that allowed him the insight into the largest transactions in Slovakia, and acquisition of extensive knowledge and know-how. He cooperated with the best attorneys on major financial and tax transactions. Peter left Dentons in 2016 to continue building CARPATHIAN. In 2018, together with Tomas Demo, they founded Highgate Law & Tax, a law firm specializing in corporate, financial, and tax law. 

In 2020 and 2021, Highgate Law & Tax was recognized as a Highly Recommended Law Firm for Tax Law in the Law Firm of the Year awards, the only contest of this kind in Slovakia.
Tomas Demo is an experienced corporate, M&A, and venture capital advisor. He provides comprehensive transactional advisory services to owners and founders of innovative companies, angel investors, and established investment platforms and venture capital funds. Tomas also acts as a counsel in corporate disputes between shareholders and investors or between shareholders themselves.

Tomas has more than 10 years of transactional consulting experience. He has advised founders of young innovative companies as well as leading and fast-growing companies such as Photoneo, Dedoles, Isadore, sli.do, AeroMobil, and Bolt. He also advises angel investors and larger investment platforms and funds on private equity and venture capital investments. Tomas publishes, speaks at conferences, and is a former member of the Ministry of Economy's working group on the recodification of commercial law.

Education and Experience:
After his graduation, Tomas worked in the Prague office of the leading Czech law firm, BBH, then with major international law firm Allen & Overy´s Bratislava office. During his tenure there, Tomáš participated as an advisor in the most significant and historically largest M&A transactions in the Slovak market, where he gained extensive experience in representing clients in the sale of companies and investor entries.

After leaving Allen & Overy in 2016, he and Peter Varga laid the foundations of Highgate Group.
What is included in a personal consultation?
Clients determine the topics of personal consultations. In a face-to-face meeting or online conference call, the client is guaranteed a personal and tailored approach and answers to his business questions. Clients can send their questions to the consultant in advance. Personal consultation means an hour-long discussion on the client-selected topics and questions. The consultation does not include any form of written output.

Following the consultation, the client may opt for broader or more formalized legal, tax, or accounting advice, if required.
Who are consultations suitable for?
Consultations are primarily intended for Slovak SMEs who are looking for a quick and straightforward orientation in some of the abovementioned issues.

Less demanding topics can be covered comprehensively, and, in these cases the consultation can be expected to provide final answers to specific questions. Consultations are also intended for industry professionals (e.g. attorneys, tax advisors, and accountants) seeking inspiration or brainstorming on a technical topic.

Several consulting topics cannot be addressed with an instant and straightforward answer without a more detailed analysis. Typically, one reason for this is the legal and tax complexity of the question or subject, which requires more effort and time on the part of the advisor. Another reason is cost. Consultation fees are relatively low in consideration of the know-how offered, so, at that cost, the client cannot reasonably expect to receive comprehensive advice on complex issues, covered by professional indemnity and insurance for the advice given.
Select your ideal consultation
Consultation on basic legal, practical, and tax subjects.
Consultation on basic legal, practical, and tax subjects.
OUR CLIENTS
Long-term satisfied clients come first.
Highgate Group is one-of-a-kind in Slovakia. Our comprehensive tax, legal, and accounting services allow us to deliver cost-effective and tailored advice.
CONTACT
Need help or advice? Reach out to us.